The practice of authenticating a document by the granter affixing his distinguishing mark or seal was current in ancient India, Egypt, Greece and Rome and was continued in medieval times.
The art of the seal engraver is to produce a mirror image in the ring or desk seal so that when it is pressed into hot wax the crest is the correct way round. No machinery is used in the engraving process, only traditional tools such as gravers, half rounds, flat tools and spit sticks.
I am able to supply signet rings in silver, 9 ct and 18 ct gold and platinum. I am able to research family crests.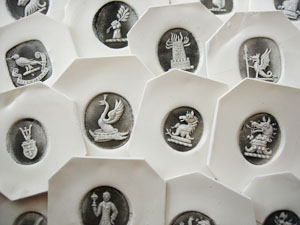 Hand engraving is one of the oldest forms of art, dating back to pre historic man.
For this type of engraving I use traditional tools. One of such tools is the graver, which is used to cut through the metal to produce the desired crest or initials.
I can engrave any precious metal and supply silver and gold cufflinks.